Mar Menor & La Manga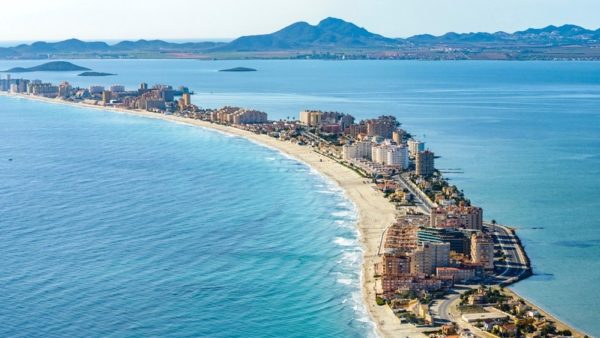 The Mar Menor ("Small Sea") is a large salt-water lagoon on the Costa Blanca till Costa Calida, separated from the Mediterranean by La Manga, a 21km long sandbar. It is a hugely popular area with families and Spanish nationals, and there is plenty to do in the surrounding area. Here, we'll look at some of the best places and activities in the region, whether you're just visiting or thinking of moving.
The Mar Menor itself is a salt water lagoon with a surface area of over 170 km². The water never reaches more than 7 metres in depth and has high salinity levels (salt ratio), aiding floatation. The waters are also very calm and relatively warm, due to the lagoon being enclosed (bar some small channels) and separate from the Mediterranean tides. For these reasons, the Mar Menor is considered ideal for a range of water sports, which are very popular in the area. It is common to see all manner of jet-skis, wind-surfers and parasailers out on the water. The shallow depths also allow families with children to enjoy the water. So, hop right in and enjoy it for yourself!
The stretch of land separating the Mar Menor from the rest of the Mediterranean is known as La Manga. It is a 21km long sandbar that is up to 100m wide. A relatively new Spanish tourist destination, it only became urbanized in the mid-1960s when its potential was realized. Since then an array of hotels, restaurants, spas and bars have popped up along its length. As with other resorts surrounding the Mar Menor, water sports are very popular and here, you'll be in the middle of it all. However, we recommend taking some time out to enjoy a pampering session at one of the many luxury day spas available with fantastic views overlooking the lake on one side and the sea on the other. Bliss.
There's lost more sights and activities to enjoy in and around the Mar Menor, just not enough time to go over them all here! If you're interested in visiting and seeing for yourself, then get in touch with us to discuss booking a viewing trip. We'll do the hard work for you and select a portfolio of properties in the area for you to view, leaving you with more time to decide how to enjoy your time when you do move.