Penthouse apartment with sea and mountain views in Isla Plana Mazarrón – Cartagena – Murcia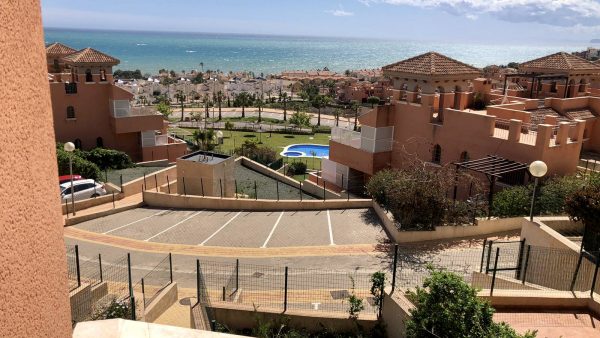 "An amazing apartment for this price "
Apartment benefits from amazing panoramic views of the sea and mountains, stretching from La Azohia to Puerto de Mazrrón.
Price for the apartment is € 137.500  (plus applicable taxes and fees) and sold fully furnished and equipped, 2 good sized double bedrooms with fitted wardrobes and ceiling fans, one bathroom with shower and a pull out sofa bed to accommodate 6 in total.
Key ready to start enjoy your new holiday home in Spain! Contact us for further details!
Elevate your lifestyle with this extraordinary property, located on the hills overlooking the charming village Isla Plana, by the shorelines south of the historical harbour city Cartagena.
A privileged apartment with an outdoor terrace 15 m2 with electric canopy and half covered rooftop solarium for sunbathing and relaxation. The 60 m2 solarium has a free standing brick BBQ and feature granite topped bar with overhead lighting.
Interior layout 60 m2 with 2 bedrooms and 1 bathroom. A lounge with open plan kitchen fully equipped and sliding glass doors towards the balcony and solarium. Heated and cold by A/C and the bedrooms contains with fitted wardrobes. There is under stairs storage on the balcony.
A large clean communal pool with landscaped surroundings and lovely sea views and off road parking in front of the apartment.
Walking distance to sandy beaches, restaurants & bars plus amenities and 5 mins by car to  the harbour of Puerto de Mazarrón.
✔️𝐍𝐎𝐖 𝐅𝐎𝐑 € 137.500
𝐏𝐞𝐧𝐭𝐡𝐨𝐮𝐬𝐞 (𝐨𝐧𝐞 𝐥𝐞𝐯𝐞𝐥)
𝐋𝐢𝐯𝐢𝐧𝐠 𝐬𝐩𝐚𝐜𝐞 60 𝐦𝟐
𝐓𝐞𝐫𝐫𝐚𝐜𝐞 15 𝐦𝟐
Solarium 50 m2
𝟐 𝐛𝐞𝐝𝐫𝐨𝐨𝐦𝐬
𝟏 𝐛𝐚𝐭𝐡𝐫𝐨𝐨𝐦
𝐂𝐨𝐦𝐦𝐮𝐧𝐢𝐭𝐲 𝐩𝐨𝐨𝐥
𝐒𝐞𝐚 𝐚𝐧𝐝 𝐦𝐨𝐮𝐧𝐭𝐚𝐢𝐧 𝐯𝐢𝐞𝐰𝐬
𝐖𝐚𝐥𝐤𝐢𝐧𝐠 𝐝𝐢𝐬𝐭𝐚𝐧𝐜𝐞 𝐭𝐨 𝐛𝐞𝐚𝐜𝐡, 𝐫𝐞𝐬𝐭𝐚𝐮𝐫𝐚𝐧𝐭𝐬, 𝐛𝐚𝐫𝐬 𝐚𝐧𝐝 𝐬𝐡𝐨𝐩𝐬
𝐂𝐨𝐫𝐯𝐞𝐫𝐚 𝐀𝐢𝐫𝐩𝐨𝐫𝐭 𝟒𝟓 𝐦𝐢𝐧s
𝐂𝐚𝐫𝐭𝐚𝐠𝐞𝐧𝐚 𝟐𝟎 𝐦𝐢ns
Puerto de 𝐌𝐚𝐳𝐚𝐫𝐫ó𝐧 𝟓 𝐦𝐢𝐧s
✔️𝐌𝐨𝐫𝐞 𝐢𝐧𝐟𝐨𝐫𝐦𝐚𝐭𝐢𝐨𝐧 𝐣𝐮𝐫𝐠𝐞𝐧@𝐲𝐨𝐮𝐫𝐡𝐨𝐦𝐞𝐢𝐧𝐬𝐩𝐚𝐢𝐧.𝐞𝐮 𝐨𝐫 𝐜𝐚𝐥𝐥 +𝟑𝟒-𝟕𝟏𝟏𝟎𝟐𝟐𝟗𝟐𝟕 (𝐚𝐥𝐬𝐨 𝐖𝐡𝐚𝐭𝐬𝐀𝐩𝐩)