Penthouse 2 bed apartment with sea and mountain views in Isla Plana Mazarrón – Cartagena – Murcia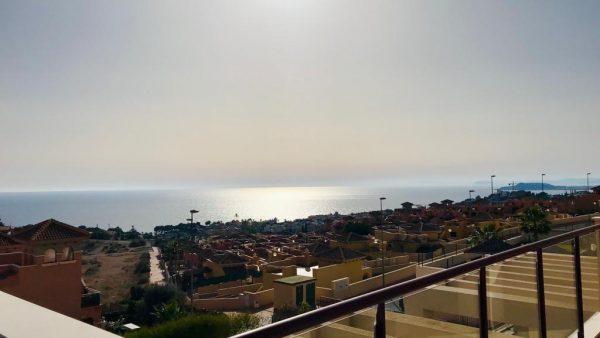 For the quick decision maker because gone = gone!
"An amazing apartment for this price " Sea view and mountain view! Contact us for further details or ask for the movie!
Price is € 130.000  (plus applicable taxes and fees) Sold fully furnished and equipped.
Key ready to start enjoy your new holiday home in Spain!
Elevate your lifestyle with this extraordinary property, located on the hills overlooking the charming village Isla Plana, by the shorelines south of the historical harbour city Cartagena.
A privileged apartment with an outdoor terrace with uninterrupted sea and mountain views and underground parking.
Interior layout 50 m2 with 2 bedrooms and 1 bathroom. A lounge with modern open plan kitchen fully equipped and sliding glass doors towards the 35 m2 outdoor area. Heated and cold by A/C and the bedrooms contains with fitted wardrobes.
Underground private parking spaces including a storage room is included in the title deeds and a large community swimming pool is adjacent to the apartment. Walking distance to sandy beaches, restaurants & bars plus amenities in the close by harbour.
✔️𝐍𝐎𝐖 𝐅𝐎𝐑 Sold!
𝐅𝐚𝐧𝐭𝐚𝐬𝐭𝐢𝐜 𝐨𝐩𝐩𝐨𝐫𝐭𝐮𝐧𝐢𝐭𝐲
𝐈𝐬𝐥𝐚 𝐏𝐥𝐚𝐧a -𝐌𝐚𝐳𝐚𝐫𝐫𝐨𝐧, 𝐂𝐨𝐬𝐭𝐚 𝐂𝐚𝐥𝐢𝐝𝐚, 𝐌𝐮𝐫𝐜𝐢𝐚
𝐏𝐞𝐧𝐭𝐡𝐨𝐮𝐬𝐞 (𝐨𝐧𝐞 𝐥𝐞𝐯𝐞𝐥)
𝐋𝐢𝐯𝐢𝐧𝐠 𝐬𝐩𝐚𝐜𝐞 𝟓0 𝐦𝟐
𝐓𝐞𝐫𝐫𝐚𝐜𝐞 35 𝐦𝟐
𝟐 𝐛𝐞𝐝𝐫𝐨𝐨𝐦𝐬
𝟏 𝐛𝐚𝐭𝐡𝐫𝐨𝐨𝐦
𝐂𝐨𝐦𝐦𝐮𝐧𝐢𝐭𝐲 𝐩𝐨𝐨𝐥
𝐏𝐫𝐢𝐯𝐚𝐭𝐞 𝐩𝐚𝐫𝐤𝐢𝐧𝐠 (𝐮𝐧𝐝𝐞𝐫𝐠𝐫𝐨𝐮𝐧𝐝)
𝐒𝐞𝐚 𝐚𝐧𝐝 𝐦𝐨𝐮𝐧𝐭𝐚𝐢𝐧 𝐯𝐢𝐞𝐰𝐬
𝐖𝐚𝐥𝐤𝐢𝐧𝐠 𝐝𝐢𝐬𝐭𝐚𝐧𝐜𝐞 𝐭𝐨 𝐛𝐞𝐚𝐜𝐡, 𝐫𝐞𝐬𝐭𝐚𝐮𝐫𝐚𝐧𝐭𝐬, 𝐛𝐚𝐫𝐬 𝐚𝐧𝐝 𝐬𝐡𝐨𝐩𝐬
✔️𝐂𝐨𝐫𝐯𝐞𝐫𝐚 𝐀𝐢𝐫𝐩𝐨𝐫𝐭 𝟒𝟓 𝐦𝐢𝐧
𝐀𝐥𝐢𝐜𝐚𝐧𝐭𝐞 𝐀𝐢𝐫𝐩𝐨𝐫𝐭 𝟏 𝐡𝐨𝐮𝐫 𝟐𝟎 𝐦𝐢𝐧
𝐂𝐚𝐫𝐭𝐚𝐠𝐞𝐧𝐚 𝟐𝟎 𝐦𝐢𝐧
𝐌𝐚𝐳𝐚𝐫𝐫𝐨𝐧 𝟓 𝐦𝐢𝐧
✔️𝐌𝐨𝐫𝐞 𝐢𝐧𝐟𝐨𝐫𝐦𝐚𝐭𝐢𝐨𝐧 𝐣𝐮𝐫𝐠𝐞𝐧@𝐲𝐨𝐮𝐫𝐡𝐨𝐦𝐞𝐢𝐧𝐬𝐩𝐚𝐢𝐧.𝐞𝐮 𝐨𝐫 𝐜𝐚𝐥𝐥 +𝟑𝟒-𝟕𝟏𝟏𝟎𝟐𝟐𝟗𝟐𝟕 (𝐚𝐥𝐬𝐨 𝐖𝐡𝐚𝐭𝐬𝐀𝐩𝐩)
Overview
| | |
| --- | --- |
| Price | Sold! |
| Surface | 50 m2 + 35 m2 |
| Bedrooms | 2 |
| Bathrooms | 1 |
| Features | Communal pool and private underground parking |
| Facilities | Double glazing, storage space, cold and heating A/C |
| Surrounding | Mountains and beaches 5 min close to Puerto Mazarron |
| Furnishing | Yes included |
REF: TBB2