Belvilla – OYO Rent out your property: hassle free and high returns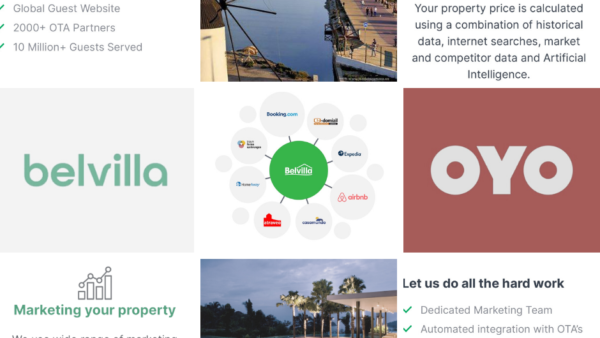 Partnering with The Art of Living in Spain – exclusive agent of Belvilla for region Murcia, experience a seamless journey in the process of renting out your property. We clearly understand that letting properties could very well be a main source of income, so we always work closely with you to figure out the best way in which you can maximize your rental income and enable a superior and comfortable stay for your guests.
Advantages of a holiday letting agent:
Partnering with The Art of living in Spain comes with several advantages because posting your vacation home on Belvilla means you are also posting your property on up to 2.400 other booking sites, such as Booking.com, Airbnb, Expedia, Tripadvisor, Homeaway, Casamundo & others.
This means millions of potential guests worldwide get to see it. While you as a homeowner have the comfort of arranging everything from one central hub: My Belvilla. Updating your property details within this platform automatically changes your listing on all the other booking sites. No double bookings, no hassle. Furthermore, you are ensured to receive the full rental amount within two weeks prior to guest arrival, your property is automatically insured up to €10,000, and cancellations will be reimbursed up to 100% in accordance with our cancellation policy.
The Art of Living in Spain takes care of everything for you!
Professional cleaning and easy check-in:
With Comfort Plus, our property management services, The Art of Living in Spain offers a unique additional service for homeowners. With this extra service, your holiday home is professionally cleaned after every stay, including a change of all linen. You will also receive a smart-electronic key box at your holiday home or we can even arrange a personal welcome. This makes checking in and out very easy. If a problem occurs during the stay of your guests, your service partner will first have a look to see what needs to be done and, if possible, solve it immediately. Comfort and full service.
With The Art of Living in Spain you can rent out your vacation home carefree.
Register for free to list your property:
www.theartoflivinginspain.com/rental-service/
For a brochure in your own language and more information:
www.theartoflivinginspain.com/belvilla/
We know that promoting your property in as many places as possible is the key to maximise your income. We work with more than 2000+ websites including Booking.com, Airbnb, Expedia, Tripadvisor & others to maximise your home occupancy.